No112
14th April 2004:
Amy Skelton: Shuvo Noboborsho 1411 sillustrated by Katarina Karlsson

"I was very pleased as I felt it went well and that my message of how important a role volunteers can play in raising awareness of their home country in Bangladesh.. and..vice versa. It's true to say that when I was growing up all I knew about the country was natural disasters and poverty. There are many other sides to the country. I do hope that the culmination of my travelogues will give you that impression."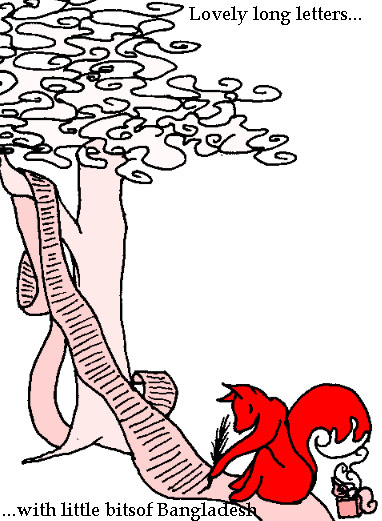 ---
Sinister Galleries: [Body Parts] [Concerts] [Baby Photo Album] [People Photo Album] [Picnics, Pubs and Conferences] [Sillustrations] [Your Slip Is Showing] [Things We Made In School Today, Mummy]
---
Click to go ...

to the main mailing list page

Table Service by Honey