No108
16th February 2004:
Bruno Gomes: Is there such thing as the right time? sillustrated by Katarina Karlsson

"Looking at how the list's been quiet these last days, maybe it's the right time to invite you all to participate in the DCW poll I'll be running until next friday (sure hope this doesn't qualify as list abuse!). It's as simple as sorting the 12 songs according to your preferences and sending that list to pdlngsp@sata.pt with "DCW poll" as subject (#1 will get 12 pts, #2 will get 11 pts, etc).

TTFN
Bruno

"Do you understand what I'm talking about? Have you ever felt like that? When you just couldn't feel anything and you didn't want to either. You know? Like that? Do you understand what I'm saying sir?" "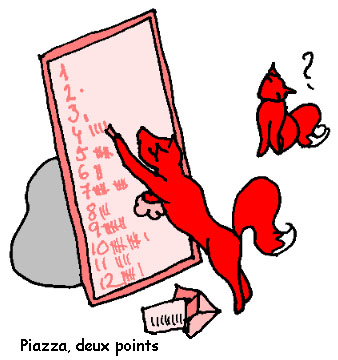 ---
Sinister Galleries: [Body Parts] [Concerts] [Baby Photo Album] [People Photo Album] [Picnics, Pubs and Conferences] [Sillustrations] [Your Slip Is Showing] [Things We Made In School Today, Mummy]
---
Click to go ...

to the main mailing list page

Table Service by Honey