No100
9th November 2003:
Kevin Holzer: he wind was blowing, calling your name sillustrated by Katarina Karlsson

"I decided to do the stereotypical male thing, namely doing my business on the side of the road. Little did I know the rush of emotion and beauty that would come upon me.

As soon as I got out of my car (a nineteen eighty eight chevrolet caprice classic, one of the last of the true american cars) I felt this enlightenment that I couldnt quite place my finger on, just a pure appreciation of beatuy of my surroundings. The moon was full, B&S was still playing, the nice hum of my engine going, and the clouds....oh the clouds..."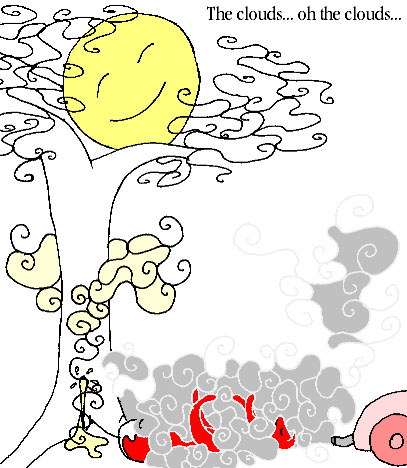 ---
Sinister Galleries: [Body Parts] [Concerts] [Baby Photo Album] [People Photo Album] [Picnics, Pubs and Conferences] [Sillustrations] [Your Slip Is Showing] [Things We Made In School Today, Mummy]
---
Click to go ...

to the main mailing list page

Table Service by Honey