No098
27th October 2003:
idleberry: You're not getting any younger sillustrated by Katarina Karlsson

"Iíve spent almost the last week in isolation, speaking only to friends over the phone, or the occasional passer-by member of my family. Mostly, my ears have been listening to the nonsensical conversations of my Sim family, who have been entertaining me. My family consist of Barbie, Action Man, Ken and Sindy. Ken and Sindy after some passion (despite Ken getting randy some other females, and Sindy getting flirty with Bob Newbie) recently decided to have a baby, Skipper, who will grow into a child if they look after her properly for three days, so they have been skiving work so as not to miss her feeding times. Action Man meanwhile has proposed marriage on at least four occasions to a Katrina House lookalike, who said no, once because she complained they donít talk enough, and three times because she was hungry. Action Man told her to leave, and returned to his passion for painting. Barbie meanwhile is working as a psychic for the police."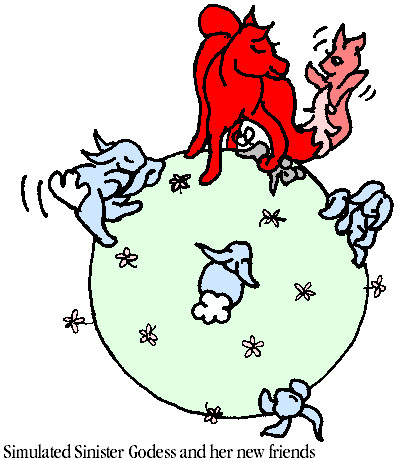 ---
Sinister Galleries: [Body Parts] [Concerts] [Baby Photo Album] [People Photo Album] [Picnics, Pubs and Conferences] [Sillustrations] [Your Slip Is Showing] [Things We Made In School Today, Mummy]
---
Click to go ...

to the main mailing list page

Table Service by Honey