No096
6th October 2003:
Mark Casarotto: Rhoda - a reminder sillustrated by Katarina Karlsson

"This is a serious thing - as many of you know, "Rhoda" is a work of staggering gorgeousness and it's a terrible crime that even those of us who do have it only have a 25th generation copy with stops and starts and dreadful interference. So go on, sign the petition - it takes 20 seconds and it might, just might, work.

http://www.petitiononline.com/Rhoda/petition.html

They'll *have* to listen to 1,300 voices (plus more if the Bowlie boards are also asked to sign, hint hint anyone with dual loyalties). Think how fucking cool we'll feel if this actually works :)"...

"p.s. if anyone who received a Sinister Xmas gift hasn't thanked the person who sent it to them it's NOT TOO LATE to do so."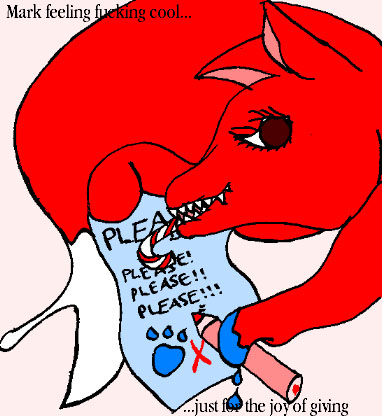 ---
Sinister Galleries: [Body Parts] [Concerts] [Baby Photo Album] [People Photo Album] [Picnics, Pubs and Conferences] [Sillustrations] [Your Slip Is Showing] [Things We Made In School Today, Mummy]
---
Click to go ...

to the main mailing list page

Table Service by Honey