No067
9th January 2002:
Rebecca Wright: lions sillustrated by Katarina Karlsson

"It was about this lioness who'd adopted a baby oryx, an oryx is like a gazelle only with funnier horns. She looked after it and washed it and cuddled up to it whilst it was asleep (don't know whether that last bit is true but it's in my head now), the lion even let the real mother oryx near the baby in order to feed it. The paper had a photo of the two of them, this huge lion next to this tiny, scared looking fawn. The nature reserve people thought it was 'cause the fawn's markings were similar to a lion cub and the lioness must've been a bit long-sighted. But at the end of the article it said that this big ol' daddy lion just came up and ate the fawn!! The lioness tried her best to protect it but no, he ate it!
Moral: all men are evil no matter what the species. "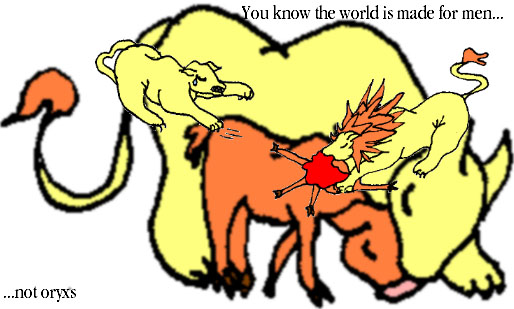 ---
Sinister Galleries: [Body Parts] [Concerts] [Baby Photo Album] [People Photo Album] [Picnics, Pubs and Conferences] [Sillustrations] [Your Slip Is Showing] [Things We Made In School Today, Mummy]
---
Click to go ...

to the main mailing list page

Table Service by Honey