No048
29th July 2001:
Will Salt: Ease Your Feet Off In The Sea sillustrated by Katarina Karlsson

"Everyone met up as planned, and managed to catch the trundly branch-line train down to the beach. There was a fair crowd of us---me, gordonpicnicdaddy, sweetie, vic, steve, jo "pigtails are *my* trademark", ian, harry, Jim The Australian, dimitra, andrew, sunnyset, Extremely Tall Chris, Lots Of Other People, and most importantly, Belle, everyone's favourite listpuppy.
After walking onto a golf course and making ourselves rather unpopular, we found the beach and wandered along until we found a nice hollow between rocks, in front of a deep, dark cleft probably filled with unimaginable horror. It was nice and secluded, so secluded that half of the picnicers got lost, couldn't find anyone and walked several miles back and forth along the beach. We lit our barbecues, sat and drank, and discussed all the important issues of the day. We even remembered to put food on the barbecues, but forgot to take it off again until our cosy cleft was rather full of smoke. The only way to solve the problem was by inventing the now-famous Olympic sport of barbecue shuffling, pushing them up and down the beach until the smoke went away.
Sadly, the beach wasn't really paddling-friendly, but a few people (Belle included) were brave enough to try it. They ended up rather wet, of course."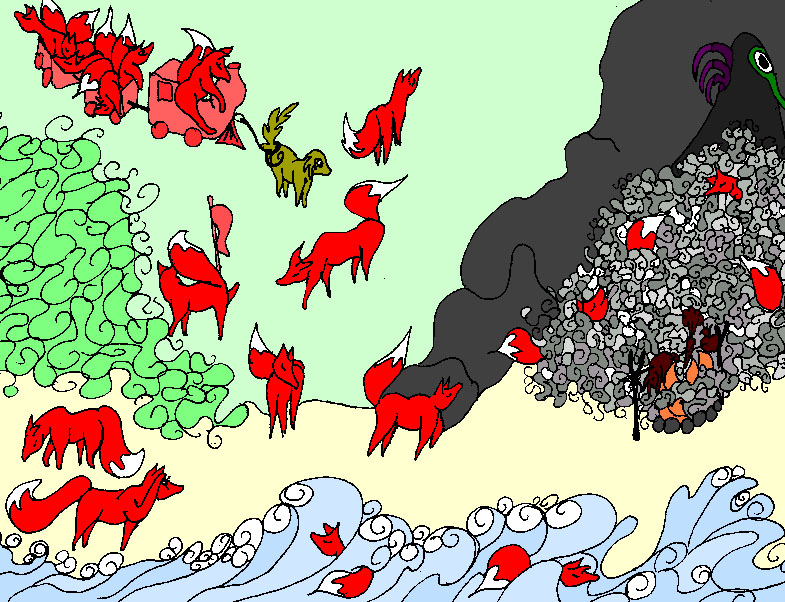 ---
Sinister Galleries: [Body Parts] [Concerts] [Baby Photo Album] [People Photo Album] [Picnics, Pubs and Conferences] [Sillustrations] [Your Slip Is Showing] [Things We Made In School Today, Mummy]
---
Click to go ...

to the main mailing list page

Table Service by Honey