Know Your Hiztory
Part Three
Bowlie Bulldozd
In Spring 1999 Mr Trousers' keen business acumen had its chance and leapt. He'd heard of something called "The Bowlie Weekender", a hopelessly disorganised and foppish music festival near Hastings. "These indie-kids might flop around in their duffle-coats and hair-clips reading Kerouac and getting pissed up on booze, but I know what they really want..." he wrote in his diary, "some S-E-X". He'd quickly booked in Droolz, claiming them to be a morose drivelling indie sextet from Dundee, and when the girls took to the stage at 8pm on the Saturday night, no-one knew what hit them. Screaming 20-year olds were seen throwing away their pints in disgust and ordering Babychams; Mercury Rev retreated from the stage in a hail of hairspray cans and powder compacts. The following day, the Droolz football team won the weekend football tournament 10-0 without smudging their makeup. Indie was Dead.


Mr Trousers making
an effort

Droolz steal the show at
The Bowlie Weekender

The winning Droolz
football team at Bowlie
The only shadow over the whole Bowlie Festival was a miserable act of cowardly imitation by some desperate fans. Sometime before their appearance on the main stage, an unruly mob of dribbling, sex-starved fans gathered outside the stage door while the girls hung around inside in various states of undress drinking Malibu. Our heroines in their innocent girlish excitement taunted the mob by throwing out items of underwear, which made things only more ugly, and eventually the police were called and the mob dispersed. The three sex-starved, jealous and desperate ringleaders, Teeth, Shag and Moss spent the rest of the festival claiming to be a boy-band called Roolz, in a pathetic and sordid attempt to steal the limelight. They were later found selling Droolz undies for 50p and a glass of Tennants.
Spies are currently planted within the "Roolz Organisation" to undermine any attempt at further slander. Mr Trousers' lawyers will take swift and decisive action.

The Droolz beauties lounge around
provocatively in underwear before their set

The angry sex-starved mob outside the dressing room, including
Teeth, Shag and Moss. You can clearly see the dribble on their shirts.
Whither Now For Droolz?
It can truly be said that Droolz are "the people's band". Right now it seems that the world is their oyster, with a world tour beckoning, including the prestigious Ipswich Town Hall, plans for a round-Britain boat-bound tour "Britannia Droolz the Wavez", an upcoming documentary on Channel 4 set in Blackpool, "Droolz Out For Summer", and a sycophantic campaign to pander to parent's insecurities, "Droolz For Schoolz".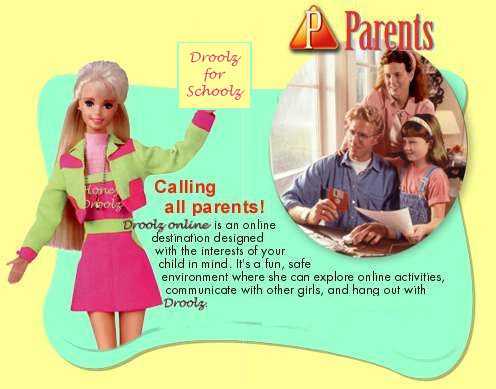 An excerpt from the exploitative
"Droolz For Schoolz" WWW site
Yet strange and disturbing happenings lurk beneath the surface for the top girl combo. Who is the mysterious Scottish figure and one time Take That collaborator "Lulou", who now lives with Honey, swears like a trooper and of whom only one photo exists? Why was Starry seen recently singing a solo set in a sleazy Preston nightclub under the name Starry Spice? Who is the mysterious father of Honey's numerous children, some of whom live in a mysterious place called "The Nursery"?


The only known picture of the
mysterious Scottish figure, Lulou

"Starry Spice" - a split beckons?

Who's the father?: Honey outside
Marks and Spencers last week

A paparazzi shot through Honey's front
window into "The Nursery". What's all that
about then?
Only time will tell what's to come for Droolz and their followers the so-called "Droolz Dronez" worldwide. But one thing's for sure: it'll be sexy and it'll earn them loads of money. Thank you for being a part of Their Story.




Back to: Droolz Home

Babes In Bikiniz not Foul Smelling Meaniez